South Georgetown savour their second place
AS far back as the 1990s, the Upper Demerara/Kwakwani and North Georgetown districts have been in a back-and-forth exchange of first- and second-place at the National Schools Cycling, Swimming and Track & Field Championships (Nationals).However, this year when the competition concluded, ,North slipped to third and for the first time in over a decade a new district climbed into second place.And second place at Nationals may never have been so celebrated, as it was last Friday, when South Georgetown (District 13) were officially declared in second place behind Upper Demerara/Kwakwani at Nationals, edging out North Georgetown by just one point.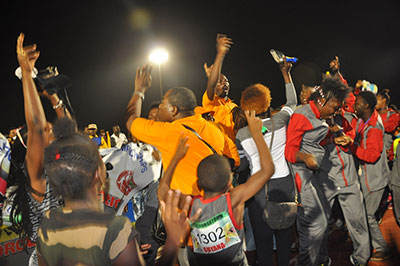 The South Georgetown team celebrate their second place win last Friday night. (Delano Williams photo)Last Friday night, as the yellow and black team took a few victory laps around the track, they were jubilantly joined by the frolicking grey and red-clad athletes of the South Georgetown, who had also broken out into similar merriment.It was the first time that the team had finished so high among the 15 Districts that took part in the Championships.The second place was achieved as a result of constant improvements by the District over the past few years – a marked development for the team who had finished tenth five years ago.Things only got better from there. After being fifth in 2015, the team climbed to third place last year, and actually entered this year's competition gunning for the win. Fortunately they had quite a strong team to back up their hopes.It was thanks, of course, to a combination of strong performances in all the events of the multi-sport. The District finished third in track and field, third in swimming, third in cycling and fourth in the teachers' competition.However, for District head Leon Bishop, as happy as he is now about the second place finish, the triumph was more of a bitter-sweet one for him."We're happy but sad at the same time that we didn't achieve the optimum goal. It's the first time that the District would have attained that position; so it's great for the team but we were looking for the Champions of Champions trophy," Bishop said.Bishop noted that for the most part the team performed as was expected, but it was in the teachers' competition that they fell short. After finishing second place in the teachers' competition last year, South dipped to fourth place this year."In the teachers' championships we were very disappointed because that was the only area that we fell down in. We had some stumbling blocks – some teachers were required to be at University exams and college exams – so we couldn't do anything about that," Bishop explained.Nonetheless, he is already looking forward to next year with high hopes of seeing the red and grey team hoisting the coveted trophy.